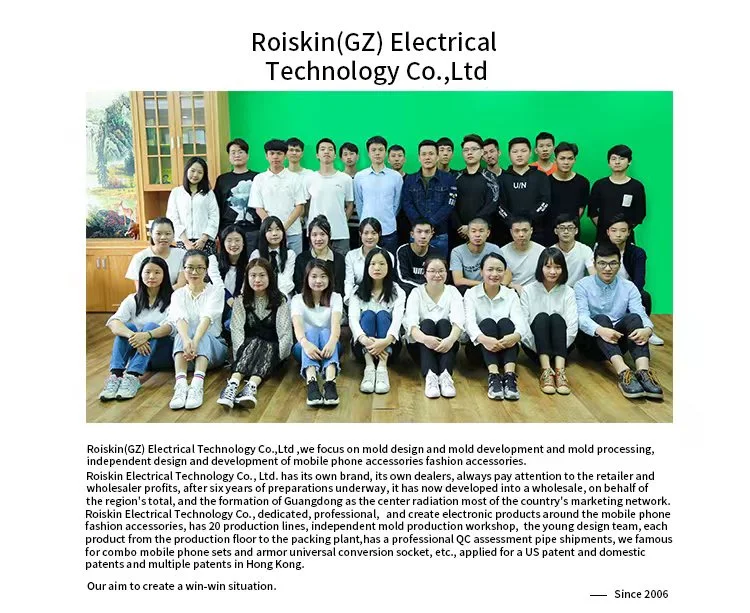 Focus on mold design and mold development and mold processing, independent design and development of mobile phone peripheral fashion accessories.
Our dedicated, professional, create a mobile electronic products surrounding fashion accessories, equipped with 20 production lines, independent mold and production workshop, has a group of young design team, each product from the production workshop to packaging workshop, have a professional QC review tube shipment, industry's famous works of dazzle print in one cell phone sets and armor universal conversion socket, etc., to apply for the United States patent and domestic multiple patent patent and Hong Kong. We guangzhou Boiskin co., ltd. has its own brand, its own dealers, always pay attention to the profits of dealers, after six years of making, has developed into a wholesale, regional agent, and formed a marketing service network with guangdong as the center, radiation in most parts of the country. Our purpose is consensus, create, win-win. Our company stands out, has cast a highly efficient and mature sales and design team, and has its own mold room and mold opening equipment, computer gong, CNC machine, injection molding machine, and other equipment.It is our Crystallization of sweat,not lucky. We have a professional design team, independent innovation products, 
and can provide customers with design or according to customer patterns and requirements to 
open new products.We always keep an open mind to learn from others in the industry and 
develop future products that others have not noticed.  Not only process,but also innovation.